Rubies Technologies, a visionary tech organization on a mission to equip African kids with digital knowledge for global relevance, is set to organize an electrifying tech bootcamp through its NGO arm, Rubies Tech Foundation. The bootcamp, tagged TECH UP, is a groundbreaking initiative designed to build on the company legacy of empowering and training young individuals in basic tech education and coding since 2017.
It would be recalled that in 2022 the organisation took an exceptional step and organised a free physical bootcamp tagged the Ijoko Project to mark its 5th year anniversary. The idea was borne out of the company's desire to find a way to give back to the community and help young people who might not otherwise have access to tech education.
The bootcamp held in Ijoko, a community in Ogun state had over 100 kids and teenagers in attendance while some were also awarded with computer gadgets to continue their coding journey.
In 2023, the TECH UP bootcamp will be held in two different communities: Epe in Lagos state and Ogbomoso in Oyo state. The comprehensive training program will cover courses which include, scratch programming, python, robotics, and web development.
"The idea behind the bootcamp is to expose young people to tech education and give them the skills they need to succeed in the 21st century," said Ruth Afape, the founder of Rubies Technologies. "We want to help them start creating something and bring out the best in themselves."
Open to individuals between the ages of 10 and 19, the TECH UP bootcamp will run from August 14th to August 18th in Ogbomoso, and August 14th to August 25th in Epe.
Rubies Technologies is providing the training free of charge. The company will also be making provisions for all gadgets needed by participants to participate in the bootcamp. "We want to make sure that everyone has the opportunity to participate, regardless of their financial situation," said Afape. "We believe that everyone deserves the chance to learn about tech and coding."
The bootcamp is a great opportunity for young people in Epe and Ogbomoso to learn about tech education and coding. It is also a great opportunity for them to meet other young people who are interested in tech.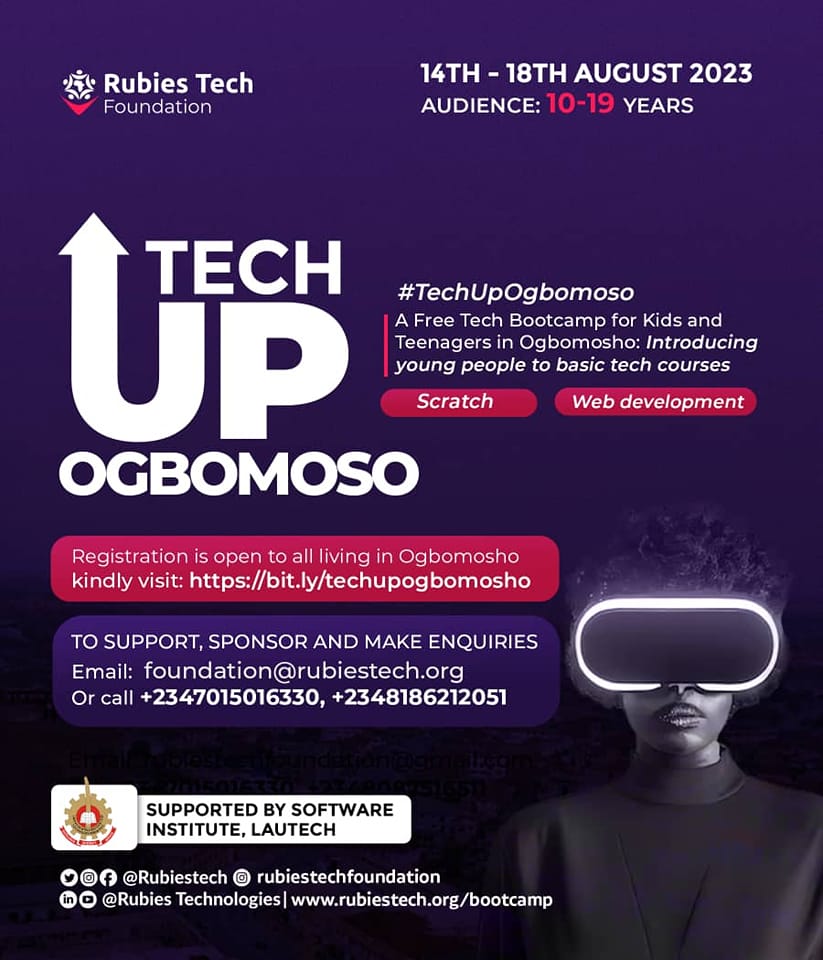 If you are a young person in Epe or Ogbomoso who is interested in learning about tech education and coding, you are encouraged to sign up for the bootcamp. It is a great opportunity to learn new skills and meet new people.
To sign up for the bootcamp, please visit click EPE or OGBOMOSO.
The bootcamp is open for donation and sponsorship
To support this project, kindly see below
For sponsorship and support, use
Account name: Rubies Technologies
Providus Bank: 5400894525(naira)
Zenith Bank : 1224169870 (Naira)
Zenith Bank : 5072777795 (Dollar)
For enquiries
Email: foundation@rubiestech.org
Or call +2347015016330 or +234 8186212051
Visit rubiestech.org/bootcamp